Hi everyone!
I hope you all have been enjoying the week. My arm is getting better slowly but surely. It's much better to type now. Thanks to all who have sent get well wishes.
Week 3
Well this week got off to a rocky start. I tried the expressway again to save time, but missed my exit and wound up being about 10 minutes late to class. Aside from that, once I arrived at class, there were new pieces of equipment for Homer to learn.
The A Frame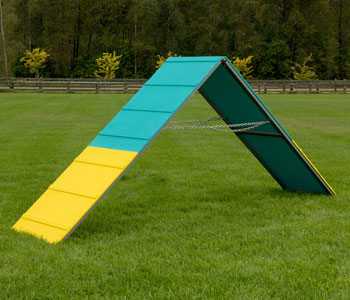 Photo Resource: PR Log
This apparatus is one of the more challenging events in agility. It requires balance and concentration. It can be intimidating for a dog. Homer was a little shaky at first but soon was able to master this with the assistance of a little beef jerky.
Photo Resource: Lambert Vet Supply
The Chute
This is very similar to the tunnel but is a piece of fabric that is collapsed that the dog passes through. When Homer first encountered this, he was a little bit apprehensive but he quickly got accustomed to this apparatus.
Homer's biggest distraction is other dogs. He would notice the dogs sitting out waiting for the next class, and would pass through the opening to say hello to them. Because of this, it was hard to have him do the agility passes off-leash. I'll have to find a treat that has a stronger smell than beef jerky or just cut the beef jerky up in bigger pieces.
Still, Homer is catching on very quickly. It's giving him a positive focus for his energy. After three weeks, he's learning the routines very fast and is always willing to try again. He doesn't complain and gets along well with the dogs in his group.
We are still working on his car travelling issues. However, considering that I was way off-course, I can't get upset. He is getting better at travelling in the car, and sometimes time makes all the difference.
Related Posts
The Agility Diaries
Agility Diaries Week 2
Thank you all for stopping in. Hope you all enjoy the weekend.