I was watching the news yesterday and was in utter shock when I head about a young puppy who was thrown out of the window of a moving car. The male puppy, an Australian Cattle Dog mix between six and eight months old survived. He was found by some employees of
X Sport Fitness
, who then called authorities. The road where this dog was discovered is a busy one. The speed is 40 miles(64 kph) per hour on that road. That young puppy is extremely lucky. The Elmhurst, Illinois police are not going to rest until they arrest this reprehensible coward. The dog is safe but not up for adoption at this time but probably will be soon.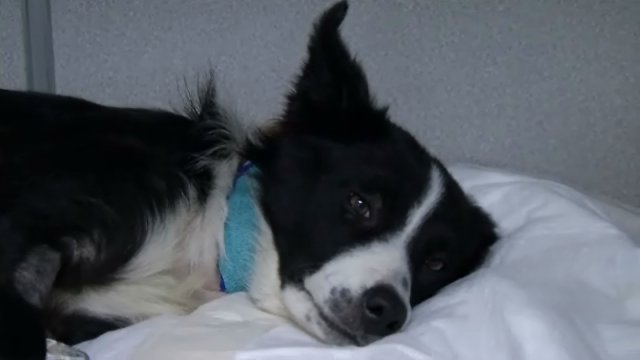 Sadly, this isn't the only time an incident like this has happened. In Louisville, Kentucky, this past September some cruel person dropped a young female dog out a car window while driving. This was a major expressway where cars travel at 65 miles per hour (105 kph). "Hope" (pictured above) survived but had severe injuries as a result. The cost for her surgery was $12,000. She had been severely abused, and is very lucky to be alive. She had spinal injuries from this and it was questionable that she would survive. Almost three months later, this young girl is in foster care and still has a cast on her broken left hind leg. She is extremely shy around new people and surroundings. The primary goal is to restore her lost muscle mass since she has been on bed rest for so long.
The animal shelter to where she was taken has been deluged with adoption requests. There is also an $8,000 dollar reward from the Louisville police as well as, a $2,500 dollar reward from the American Humane Association leading to the apprehension of the individual responsible for this travesty.
Making Sense Of The Senseless
I will never understand what drives a human being to do such heinous acts like this to a dog. If I ever came across these people, I would love to ask them "Why?". Dogs don't ask to be taken in, we do it because we want them in our lives. I will never understand what drives a person to this. One bad act that happens in the blink of an eye, changes a dog's life forever.
Hope and the little puppy are the lucky ones. Many others don't have such a happy ending.
Let's Discuss!
What are your thoughts on either of these dogs?
Read More About It
If you would like to learn more about these wonderful dogs, you can read up more about them below:
Dog Tossed Into Traffic In Good Condition
Dog Thrown From A Moving Car - Fox 41
Hope, Three Months Later, An Update